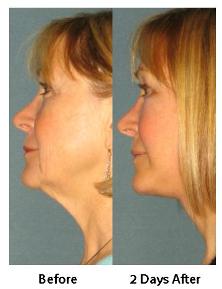 Not everyone considering a facelift needs a traditional lift – or a traditional extended recovery period. The rapid recovery face lift performed by Dr. David Magilke is now available to improve your neck and jowls, while minimizing your time off work or away from the activities that keep you young.
The rapid recovery lift is a form of "short incision" facelift that limits that amount of surgery needed to reposition the effects of aging. It does not involve any surgery under the chin or neck, so bruising and incisions are easily hidden with hairstyle within days You can expect to recover fully in half the time of a traditional facelift.
Are You A Candidate For Rapid Recovery Face Lift?
Some signs to look for that may make you a candidate for a Rapid Recovery Lift:
Men and women, both young and old
You would like to bring back your youthful neck and jaw contour.
You do not have a heavy neck, or need neck liposuction to achieve your goals.
You are a non-smoker and healthy.
You have realistic expectations
Results You Can Expect
Excess skin will be removed from your neck and jaw line, giving you an improved profile. An overall "lifting" of the lower face will lead to a more youthful appearance. You should be able to go back to work a week later, although you may feel comfortable in public sooner.
Schedule a Visit in Portland
If you are looking for a fast & easy way to revitalize your facial beauty without the need of major surgery with lengthy recovery time, book a consultation with Dr. Magilke to see if you are the right candidate for rapid recovery facelift surgery.
Patients who are considering facelift surgery can also take a look at our before and after gallery to see the procedure's successful results.
"The entire compliment of professionals inspires trust and care for their patients."
– Karen G., Healthgrades.com Review
Related Posts