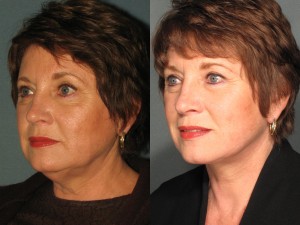 Do you feel as though your facial appearance is causing you to look older than you feel? Are premature signs of aging starting to develop throughout the lower area of your face and your neck? If so, undergoing a surgical facelift in Portland with Dr. David D. Magilke can help.

When to Pursue Facelift Surgery
Getting older is an inevitable part of life. As we age, our bodies slowly halt the production of elastin and collagen, two proteins that are crucial for maintaining healthy, supple skin. Without a sufficient amount of elastin and collagen, the skin loses its elastic quality and starts to sag. Fat migrates to undesirable areas of the face, and muscle tone degenerates. These developments lead to visible signs of facial aging: severe wrinkles, folds, creases, sunken-looking pockets, skin that hangs off the jaw line (jowls), excess fat throughout the neck, drooping neck skin and generally saggy skin.
In addition, genetics and lifestyle habits, such as smoking or frequent sun exposure, can accelerate the natural aging process or cause premature signs of aging.
If you are unhappy with noticeable or premature signs of facial aging, it might be time to pursue facelift surgery. No one can completely stop the natural aging process, but Portland OR, plastic surgeon Dr. Magilke can help combat visible signs of aging, for a more youthful overall appearance.
Are You a Candidate for Facelift Surgery?
You may be an appropriate candidate for facelift surgery if you are bothered by the following facial characteristics:
Deep-set wrinkles in the mid-face
Jowls or sagging, loose skin along the jawline
Marionette lines (lines extending from the corners of the mouth to the chin)
Nasolabial folds (creases extending from the corners of the nose to the corners of the mouth)
Sagging neck skin or horizontal bands across the neck
To qualify for surgery, you should be in good general health, not smoke and be free of any medical conditions that could impair the healing process. You should have concrete goals and reasonable expectations of the outcome of your surgery (i.e., you expect improvement, not perfection). You should have a positive attitude about surgery and comply with all of Dr. Magilke's pre- and post-operative instructions.
Dr. Magilke meets with all facelift candidates at his office for a surgical consultation. During your appointment, he will ask you to identify what you don't like about your appearance, and to describe how you would like to look after surgery. Dr. Magilke will also assess your facial structure and the quality of your skin. Based on this information, he recommends an appropriate treatment protocol, which may include an adjunct procedure, such as neck liposuction, brow lift or blepharoplasty, to optimize your surgical results. Laser procedures (performed at the same time) can also address fine lines in the skin around the eyes that often develop with aging.
Most candidates say they want to look like themselves only younger; if you feel the same way, it is helpful for you to bring in a photograph of your younger self, so Dr. Magilke can use it as a reference point.
What the Facelift Procedure Entails
Facelift surgery is an outpatient procedure, performed under anesthesia. The exact details of the facelift procedure, including the chosen incision approach, differ, depending on each person's unique anatomical needs and aesthetic goals for surgery.
Facelift surgery is designed to re-suspend the skin and facial tissues. The traditional approach to facelift surgery includes positioning an incision on both sides of the face. Each incision extends downward around the front of the ear and terminates either behind the ear or in the scalp area. Once the incisions have been created, Dr. Magilke carefully raises a skin flap to gain access to the underlying tissues and musculature. He repairs the supporting tissue structures and musculature before redistributing displaced fat and skin. Dr. Magilke pulls the residual skin taut, excising any excess, loose skin. He then closes the incisions, choosing the technique that best conceals them.
Recovering From Facelift Surgery
You should plan to take one to two weeks off from work. Although many postoperative symptoms improve within one week, it usually takes about two weeks for the visible signs of surgery to become less noticeable.
During the first several days after the procedure, you will need to keep your head elevated, even while sleeping. You might feel mild discomfort throughout the treatment area, but you can take oral pain relievers as directed by Dr. Magilke to alleviate any discomfort. You might also notice swelling and bruising throughout the treatment area, but, again, these symptoms should subside within about one to two weeks.
Results You Can Expect
With facelift surgery, the incisions are concealed behind the ears and within the scalp region. Incisions made in front of the ears can be concealed within the sideburns or by styling the hair so that it falls in front of the ears, until the scars fade so they are nearly imperceptible.
Once patients have recovered from facelift surgery, they can expect a more youthful facial appearance overall, with fewer wrinkles and restored volume throughout the face. Displaced fat is redistributed. Excess sagging skin is removed, and the residual skin looks firmer. The original contours of the face are again apparent.
Maintaining Your Facelift Results
The aesthetic results of facelift surgery last about five to 10 years, depending on individual lifestyle habits, such as smoking or sunbathing. To maintain your results, you should not smoke and should wear sunscreen on your face anytime you go outside. Maintaining your weight is also helpful; gaining and losing too much weight can stretch out the facial skin.
It is also a good idea to speak to Dr. Magilke about non-surgical facial rejuvenation treatment options, such as cosmetic injectables. Botox can temporarily smooth forehead wrinkles that crop up after facelift surgery. Dermal fillers like Juvederm and Restylane can add healthy looking volume to areas of the face that need it. Cosmetic injectable treatment is quick and convenient, and can help to prolong your youthful looking results. Lasers are also used to help maintain good skin tone and texture. Dr. Magilke offers several types of laser skin resurfacing and Portland skin tightening treatments, and can recommend the best technology and treatment for your needs.
Another way to maintain your facelift results is to follow a sensible skin care routine with products selected for your specific needs. A great moisturizer, serum and eye cream are crucial to the health and vitality of your skin. Dr. Magilke can help make product recommendations based on your skin type, lifestyle and other factors.
Look as Youthful as You Feel
Dr. Magilke uses advanced facelift techniques to help you achieve a more youthful appearance, with natural-looking results. With facelift surgery, you can finally be more you.
To discuss your facelift options and schedule a private consultation with Dr. Magilke, The Portland Face Doctor, contact our office by calling (503) 297-6511.
Related Posts