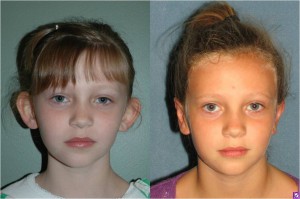 Do you hide your ears? Do you avoid short haircuts or earrings that draw attention to your ears? Is your child teased at school because of prominent ears? Your ears are usually not a cosmetic concern unless they stick out or do not match. If you are self-conscious about your ears, otoplasty in Portland with Dr. David Magilke – among the premier plastic surgeons in Portland, OR – can help.
Otoplasty (cosmetic ear surgery) reshapes the ear cartilages and pins back prominent ears. It can also recreate natural anatomy, making mismatched ears look the same.
Are You A Candidate For Otoplasty?
What may make you or your child a good candidate for Otoplasty:
You or your child (6 years or older) have protruding ears.
Your ears are uneven (one ear protrudes further out than the other).
You have a desire to keep your hair long in order to hide your ears.
You have a desire to avoid pulling your hair back behind the ears.
Results You Can Expect From Ear Surgery
Your ears are brought back into a natural position and no longer stick out.
Your incisions are hidden in the crease behind your ears, so you can cut your hair short or wear it back without signs of surgery.
The new shape to your ears is permanent.
Will Ear Surgery Cause Noticeable Scarring?
Dr. Magilke places the incisions behind the ear. As a result, the minor scarring associated with otoplasty is virtually unnoticeable, even when viewed up close.
If you wish to learn more about otoplasty for you or your child, schedule a face to face consultation with the Portland Face doctor David D. Magilke and discuss your surgery options. Patients can schedule an appointment by calling our office at (503) 297 6511.
Related Posts