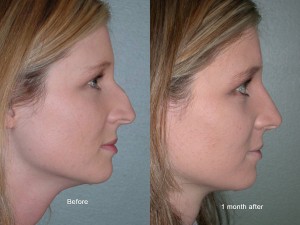 If you have always disliked your nose or felt like it dominates your face, Dr. David D. Magilke can improve the way you look with rhinoplasty. As a skilled Portland nose job surgeon, Dr. Magilke can address the shape and size of the nose so it complements your natural beauty and gives you more confidence. Though rhinoplasty is a very complex and delicate surgery, Dr. Magilke has a long history of delivering beautiful, natural-looking results. He customizes the rhinoplasty procedure to each individual to avoid "cookie cutter" results and deliver personalized cosmetic outcomes.
What Does Rhinoplasty Correct?
Rhinoplasty is performed to reshape or resize the nose, or correct other distracting aesthetic features. Rhinoplasty can treat the following nasal imperfections:
Oversized or undersized nose
Crooked or off-center nose
Hump or bump on the nasal bridge
Upturned, drooping or bulbous nasal tip
Dr. Magilke, a board certified facial plastic surgeon, also performs rhinoplasty for functional reasons. Rhinoplasty can improve breathing problems caused by an abnormality in the nasal structure (e.g., deviated septum). He frequently works with patients who want to address breathing problems and cosmetic concerns in one operation.
Are You a Candidate for Rhinoplasty?
Rhinoplasty candidates generally include those who:
Are over the age of 18 (Dr. Magilke may perform rhinoplasty for younger patients, with parental consent. He will determine candidacy for younger patients on a case-by-case basis.)
Would like to improve the look of an overly large, excessively wide or unusually shaped nose
Are frustrated with nasal asymmetry
Would like to improve nasal function and correct chronic breathing problems
Have a healthy self-image overall but are frustrated with certain aspects of their nose
Are in good general health
Have realistic expectations for what rhinoplasty can achieve
Have made the decision to pursue rhinoplasty for their own reasons and not someone else's
Procedural Details
Rhinoplasty is an outpatient procedure. Anesthesia will be administered for your comfort. The details of your rhinoplasty will differ, depending on the treatment plan that Dr. Magilke and you have agreed to. Your treatment plan will outline the specific concerns you have with your nose (cosmetic and/or functional), and detail the approach that Dr. Magilke plans to take to address them.
During your consultation, computer imaging will be used to simulate your results and help educate you about the surgery. Digital imaging takes photographs of your face and profile and manipulates them to mimic the planned surgical modifications. Imaging demonstrates the possibilities of surgery and gives you a better visual of what you can expect. For example, it is helpful for previewing the removal of a bump, alterations in the nasal tip and reduction in the size of the nose.
Rhinoplasty may be performed using either the open or the closed technique. When performing an open rhinoplasty, Dr. Magilke makes the surgical incisions across the strip of skin separating the nostrils, called the columella. This incision pattern affords him a closer view of the underlying nasal structures (although it could leave a small scar). When performing a closed rhinoplasty, Dr. Magilke keeps the surgical incisions inside the nostrils, eliminating the chance of visible scarring.
Through the incisions, Dr. Magilke makes the necessary surgical modifications according to the treatment plan. This could include removing/adding cartilage or a graft, smoothing out a bump or refining the nasal tip or nostrils. When he has finished with these alterations, he will close the incisions with sutures.
Recovering from Rhinoplasty
After rhinoplasty surgery, you should plan to take about one to two weeks off from work or school. This allows for the majority of your post-operative swelling and bruising to subside. Dr. Magilke will schedule several follow-up visits so he can keep a close eye on your healing progress.
For the first few days after surgery, it's important that you keep your head elevated, even while sleeping. If you experience post-operative discomfort, take oral pain medication as prescribed by Dr. Magilke. Avoid any bending, lifting or strenuous movement according to Dr. Magilke's instructions.
You will see an initial improvement in the appearance of your nose right after the bandages come off. You will be able to breathe easier and sleep better. Keep in mind that it can take several months to a year for the post-operative swelling to completely disappear. During this time, your nasal appearance may change slightly.
Results You Can Expect
With rhinoplasty, the incisions are well concealed either on the inside of the nostrils or on the columella. Once the treatment area has healed and any residual swelling has resolved (this can take up to about one year), patients can expect a nose that is symmetrical, in proportion to the rest of the facial features and functions properly. If the patient was unhappy with a specific feature of their nose, such as a bump on the bridge, this will be corrected.
Rhinoplasty FAQs
Does rhinoplasty surgery hurt?
Rhinoplasty surgery is not painful during the procedure. Anesthesia will be used during the operation to prevent you from feeling anything. Afterward, your nose will feel swollen, sore or tender for a few days, but the symptoms are only temporary. Oral medication is prescribed if you need it.
How much does a nose job cost in Oregon?
Rhinoplasty costs vary by surgeon and patient, taking into consideration the specific treatment plan and extent of treatment. As a result, it's impossible to quote a fixed price without a consultation. For a customized rhinoplasty quote, schedule a consultation with Dr. Magilke to discuss your specific case.
Can rhinoplasty improve my breathing?
In some cases, where a breathing problem is also responsible for a cosmetic abnormality, rhinoplasty may help improve breathing function. For example, if you have a deviated septum and a crooked nose, rhinoplasty surgery can address both.
I am unhappy with the results of a previous rhinoplasty from another surgeon. What are my options?
If you are dissatisfied with the results of your rhinoplasty, revision rhinoplasty may be an option. After consulting with Dr. Magilke, he can determine whether revision rhinoplasty can help you achieve the outcomes you desire. Keep in mind that you should wait at least a year for residual swelling to completely subside.
How can I reduce swelling after rhinoplasty?
To reduce swelling, keep your head elevated above your chest, even while sleeping. Avoid smoking, drinking excessively and exercising too soon after surgery. Keep the tape and/or packing in place after surgery until Dr. Magilke removes it. Some people find that taking Bromelain extract before surgery reduces post-operative swelling. Talk to Dr. Magilke about your concerns after surgery if swelling does not resolve.
How long until I can return to work?
Most patients who get a nose job return to work or school after the majority of their bruising and swelling subsides — usually one to two weeks after surgery. If you have a physically strenuous job, you may need to take additional time off.
Will I have scarring from surgery?
You should not have noticeable scarring after surgery. If you have a closed rhinoplasty, the incisions are made inside the nostrils so it avoids a potentially visible scar. If you have an open rhinoplasty, the incisions are made across the thin strip of skin separating the nostrils; however, the scar along the incision line typically fades until it is nearly invisible. It should not be noticeable or unsightly at all.
Schedule a Visit for Rhinoplasty
If the appearance of your nose bothers you, or if you are experiencing breathing problems, Dr. Magilke can help. Thanks to his artistic eye and his technical expertise, he is able to sculpt your nose so that it flatters your face. His rhinoplasty patients typically experience a tremendous improvement in their self-confidence.
To learn more about rhinoplasty and schedule a private consultation with Dr. Magilke, The Portland Face Doctor, please contact our office by calling (503) 297-6511.
Patients can also view our before and after gallery to see the successful results of Dr. Magikle's nose procedures.
"Went in to freshen my look. Dr. Magilke had great suggestions and the results were amazing! The entire time I felt confident that he had my best interests in mind and we came up with a plan that produced the desired result I wanted."

-Tony C., Yelp Review
Related Posts