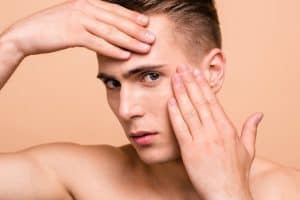 As men age, it is common for the forehead region to become heavier and wrinkled, significantly altering the appearance of the face. Male brow lift, sometimes known as male forehead lift, is a surgical treatment designed to reverse some of these changes in order to create a younger and more handsome face. Recognized as one of Portland's top facial plastic surgeons, Dr. David Magilke performs brow lifts on many male patients.
Male Brow Lift Benefits
Male brow lift can remove several years from your appearance by making the following changes:
Removing excess skin on the forehead
Diminishing wrinkles, creases and other lines that accumulate on the brow
Returning your eyebrows to their previous position on your face
Allowing your upper eyelid to look less droopy without extra brow skin weighing it down
Leaving your face with a less "tired" and/or "angry" appearance overall
Good Candidates for Male Brow Lift
Patients that Dr. Magilke believes are appropriate for male brow lift are men who are non-smokers and in good health. They should have a desire to address the lines and sagging skin on their foreheads, while also being able to set realistic expectations for what male brow lift can accomplish.
Male Brow Lift Recovery
Most men recover from brow lift surgery in one to two weeks, at which point they may resume working and other normal activities. Be aware that bruising and some moderate discomfort may last longer than this period. Your sutures will be removed during a follow-up appointment when it is safe to do so.
How Male Brow Lift Differs from Female Brow Lift
Unless instructed otherwise, Dr. Magilke would not lift a brow on a man as high as he would on a woman, as men's brows tend to hang lower and have less of an arch.
Consideration must also be paid to male hair loss patterns since incisions for brow lift on women are made covertly along the hairline, something that might not be suitable — especially in the long term — for many men who do not want their receding hairline to later reveal visible scars. As an alternative, Dr. Magilke can make cuts that stay hidden more easily above the ears.
Choose a Doctor Who Has Worked with Male Faces
In addition to these differences, there is an art to performing plastic surgery on a man. The techniques used on women will only serve to make your face appear stranger and more feminized. That makes it important for you to select a doctor who understands the subtleties necessary to maintain a masculine, handsome brow.
Put simply, a doctor who has performed brow lift surgery one thousand times, but almost exclusively on women, is not an experienced doctor for a male patient.
Fortunately, Dr. Magilke has extensive experience working with men's faces and can competently rejuvenate your face without sacrificing its masculine qualities. To have a more in-depth conversation with Dr. Magilke about male brow lift, please schedule a consultation at his Portland office by calling (503) 297-6511.