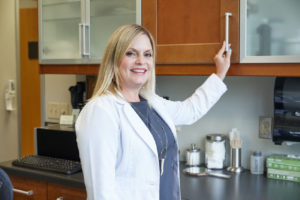 Dr. Magilke offers laser skin treatments to Portland patients. The Sciton Profile Erbium laser provides "Tunable Resurfacing Laser" treatments, which allows us to resurface your face to the precise depth needed to achieve your goals, and fit your available downtime. This laser can dramatically improve the quality of your skin, from reducing pore size and tightening lax skin to eliminating superficial pigment, fine lines and wrinkles. We offer two different laser peel treatments so we can "Dial in your Downtime" to get the result you are looking for.
Portland Laser Peel – We like to call this the "weekend" laser peel because your downtime is just a few days. Scheduling a series of "weekend" laser peels will eventually give you the result of a deep resurfacing laser peel without the longer intense downtime period. The Portland Laser Peel will improve overall skin texture resulting in a brighter, more youthful complexion. You will notice reduced pore size, improvement of pigmented skin and a generalized smooth improvement to your skin quality. Our Registered Nurse provides The Portland Laser Peel treatment and will make sure you receive a topical numbing cream and use of the Zimmer to make your treatment comfortable. You will experience the feel and look of a sunburn the first couple days, then a tightening of the skin (we call this the shrink-wrap stage) and by day 3 or 4 peeling will occur. The Portland Laser Peel is a great combination with other treatments, such as Botox®/Dysport®, dermal fillers, Intense Pulse Light (IPL) and Broad Band Light (BBL). Your neck can also be treated alone or in combination with your face.
The Portland Resurfacing Laser Peel. This powerful laser peel is designed to dramatically improve the lines around your mouth, eyes and overall face and is performed by Dr. Magilke. It will also address pigment changes due to sun damage, pore size and skin laxity. Dr. Magilke has the ability to dial the laser to the depth needed to provide the result you are seeking. The Portland Resurfacing Laser Peel can be done independently or combined with a surgical procedure. You may also choose to treat just the lines around your mouth (peri-oral) or the lines around your eyes. Local anesthesia blocks or IV sedation is used depending on your particular treatment plan and recovery from this laser peel varies patient to patient, but average downtime is 10 to 14 days.
Am I A Candidate For Laser Skin Resurfacing?
A good candidate for laser skin resurfacing has healthy, elastic skin that is not prone to major scarring after a minor injury, and does not have any major medical problems or preexisting health conditions that might lead to complications during the recovery period.
The right candidate is also educated on the procedure and has realistic expectations with respect to results from laser skin resurfacing.
Other signs to look for that may make you a good candidate:
Significant sun damage, large pore size, uneven rough skin, freckles, skin laxity, lines and wrinkles particularly around the mouth and eyes.
You want to "brighten" and improve your look, but you are not quite ready for surgery.
Who Is Not a Good Candidate for Laser Skin Resurfacing?
Patients with minor skin imperfections are often not good candidates for laser skin resurfacing. Those who scar easily may not benefit from this treatment. However, gentler alternative treatments are available at our practice. Schedule a consultation with Dr. Magilke to learn about skin rejuvenation.
What to Expect from a Sciton Erbuim Laser Peel
Post laser peel you will experience:
Redness and the feel of a sunburn, slight to moderate swelling, possible oozing, itchy skin, dry, blotchy skin and peeling. (Post laser peel recovery differs with each person and each laser peel.)
Results You Can Expect
The Portland Laser Peel: Smoother skin, reduction of pore size, brighter more youthful complexion, improvement of fine lines and wrinkles.
The Portland Resurfacing Laser Peel: Dramatic improvement of fine lines and wrinkles, pore size, freckles and sun damage, skin laxity and overall aged, weathered and neglected skin.
A younger refreshed look.
Other Procedures to Consider
In addition to providing laser skin tightening in Portland, Dr. Magilke offers other procedures that may interest you:
BOTOX®, Dysport® and dermal filler injections to prevent further wrinkle formation
Fillers such as Juvéderm®, Restylane® Radiesse® or Belotero®
Intense Pulsed Light
Clear + Brilliant™
Medical Grade Skin Care
Related Posts