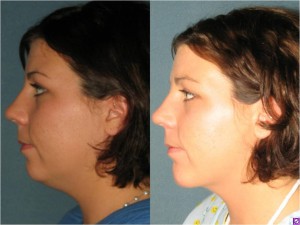 Your chin is the key to facial harmony and balance – especially from a profile view. A strong chin is the cornerstone of a classic male face, and also gives a female face the necessary length and balance associated with classic beauty. On the other hand, a weak chin can make your face look too round and short. It can even make your nose too large by comparison. If you are looking to strengthen your profile and improve the balance of your face, chin augmentation by Portland, OR plastic surgeon Dr. David Magilke may be the perfect procedure.
Chin augmentation is achieved by placing a permanent implant along the front of the jaw line. The result is a natural appearing chin that balances the other features of your face.
Are You A Candidate For Chin Implant Surgery?
What may make you a good candidate for Chin Augmentation:
You have a "weak" chin.
Your profile reflects a receded chin.
You are concerned about having "no neck."
You have a double chin.
Results You Can Expect
Your chin is augmented to balance other facial features and bring harmony to your face. You will have an enhancement that is permanent and has a natural contour.
For individuals who are not interested in undergoing chin implant surgery, but wish to enhance their appearance, Dr. Magilke can perform chin augmentation with fillers, or use dermal fillers on other areas of the face to bring harmony to the facial features.
Dr. Magilke can provide neck/chin liposuction treatments for patients who are looking to reduce the fat in the lower facial area. The result of this procedure is a thinner, more defined look. Schedule a consultation in Portland today if you have questions about our chin & neck procedures.
Related Posts