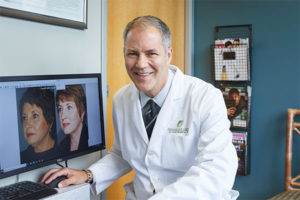 Dr. David Magilke is one of Portland's premier facial cosmetic surgeons. Since 1996, Dr. Magilke has provided the highest level of cosmetic surgery experience and skill to create a long lasting, natural surgical result. Dr. Magilke combines innovative techniques with time honored traditions for natural enhancement that is never overdone. His commitment to be board certified proves his regard for your optimal safety and comfort. Dr. Magilke believes the decision to have facial cosmetic surgery is a process that starts with a partnership between you and your surgeon.
Education
University or Oregon – Bachelor of Science 1982-86
Oregon Health & Sciences University (OHSU) – Medical School 1986-90
University of California, Davis Medical Center – Otolaryngology & Plastic Surgery Residency 1990-1996
Board Certification
American Academy of Otolaryngology, Head and Neck Surgery (AAO-HNS)
1997 – Present
American Board of Facial Plastics and Reconstructive Surgery (ABFPRS)
2004 – Present
Medical Society Membership
Association of Northwest Physicians
1996 – Present
Oregon Medical Association
1997 – Present
Hospital Affiliations
Providence St. Vincent Medical Center
"Your peace of mind, comfort and natural result is of highest importance to me. I consider it an honor and privilege to help people feel better about themselves!"
A native of Oregon, Dr. Magilke was happy to return to the Portland area in 1996 after completing his residency to start a private surgery practice. Dr. Magilke enjoys outdoor activities and Oregon provides the opportunity to hike, camp and ski with his family.
Dr. Magilke is passionate about people and art and supports the Portland Arts Community. He served for 16 years as a board member for White Bird Dance, regularly attends local art shows, and displays the work of local artists as well as his own fused glass pieces throughout his clinic. He is a regular patron at charity events for the arts and community fund raisers. His generous donations have helped schools and various charities in the Portland Oregon area.
Dr. Magilke is the proud father of twins. His son and daughter continue to bring joy and laughter to his life.
Schedule a Visit with Dr. Magilke
If you want to talk to Dr. Magilke at his office in Portland about candidacy or more information about a certain procedure, feel free to schedule a consultation today!