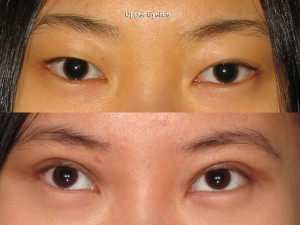 Your eyes are one of your most expressive features, and their appearance usually reflects your mood. The eyes are framed by your eyelids, which over time can negatively impact the emotions you're trying to convey. Factors such as aging and family traits can make your eyelids look fatigued, sad or angry — even if that doesn't reflect how you feel on the inside. The most effective way to correct this is through blepharoplasty (eyelid surgery) in Portland with board-certified facial plastic surgeon Dr. David D. Magilke.
When to Pursue Blepharoplasty
Most of Dr. Magilke's Portland, OR eyelid surgery patients choose to pursue surgery when they notice premature signs of aging around the eyes. Other patients have genetic eyelid traits that have always made them feel self-conscious of their eyes.
Eyelid surgery can resolve the following:
Excess skin or fat that distorts your upper and/or lower eyelids
Bags or puffiness underneath the eyes
Difficulty applying eye make-up because of excess skin or fat
Blocked vision because of excess skin or fat
Wrinkles around the lower eyelids
Eyelid surgery will tighten the lids and remove under eye puffiness and bags for a rested and pleasant result. If your eyelids block your line of sight, eyelid surgery will improve your vision.
Are You a Candidate for Eyelid Surgery?
Generally, suitable candidates for eyelid surgery include individuals who:
Would like to improve the look of sagging upper eyelids, lower eyelids or both
Are in good overall health
Have realistic expectations for the outcome of eyelid surgery
Have made the decision to undergo eyelid surgery of their own accord
What Will Upper & Lower Eyelid Surgery Be Like?
Eyelid surgery is an outpatient procedure performed under anesthesia. Dr. Magilke will use your detailed treatment plan as a guide while he operates. This treatment plan includes your specific eyelid concerns, whether they relate to your upper eyelids, lower eyelids or both. Dr. Magilke will take the approach he feels will produce the most favorable results.
If Dr. Magilke is treating the upper eyelids, he will make the incision within the natural crease of the eyelid. If Dr. Magilke is treating the lower eyelids, he will make the incision just below the lower lash line, or inside the eyelid if no excess skin needs to be removed. The incisions are carefully placed so that any scarring will be nearly invisible within the eyelids' structures.
Through the incisions, Dr. Magilke will remove or reposition fat, tighten the muscles and remove excess skin. He will re-drape the skin more tightly over the eyelids, and close the incisions with sutures.
If Dr. Magilke thinks it would be beneficial, he may recommend combining upper or lower eyelid surgery with another procedure for more comprehensive facial rejuvenation. Options include a facelift, neck lift and brow lift, which target the upper and lower regions of the face and neck. Laser procedures (performed at the same time) can also address fine lines in the skin around the eyes that often develop with aging.
Recovering from Eyelid Surgery
Prior to surgery (during the consultation), Dr. Magilke will explain the general recovery timeline and estimate how long it will take before you can return to work, exercise and your normal activities. You will also receive detailed instructions for post-operative care, including how to clean the incisions, alleviate pain and protect your healing eyes.
For the first few days after surgery, you can expect some mild swelling, bruising and irritation as well as dry eyes. These symptoms are only temporary and should subside quickly. If you experience any pain, you can take medication as prescribed by Dr. Magilke. After two to three days patients typically find that over-the-counter pain relief suffices. Eye drops might also be prescribed to help soothe your eyes.
During your initial recovery, it is important to rest your eyes and your body by relaxing at home in a comfortable position. Avoid anything that could strain your eyes, including working on an electronic device or reading for long periods of time. You must also keep your head elevated (even when sleeping) to avoid swelling and bruising, and refrain from bending or lifting anything heavy. Following these guidelines will speed up your recovery; ignoring them may lead to a longer healing period or even a rare complication.
Dr. Magilke will let you know when to return to the office for your follow-up appointments. During these appointments, he will check your healing progress, remove any sutures and clear you to return to work and exercise.
Blepharoplasty Results You Can Expect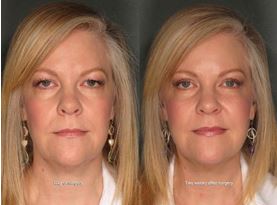 With eyelid surgery, the incisions are concealed within the natural crease of the upper eyelid, inside the lower eyelid or just beneath the eyelash line of the lower eyelids, depending on whether Dr. Magilke is treating the upper eyelids, lower eyelids or both. Patients can expect a refreshed, rejuvenated appearance throughout the eyes, with a distinct upper eyelid crease and no "bags" under the lower eyelids.
Eyelid Surgery FAQs
Does upper / lower eyelid surgery hurt?
The surgery itself does not hurt. Anesthesia is used to numb your eyes and keep you comfortable during the operation. You should not feel anything. After surgery, your eyelids may feel tender or tight and your eyes may feel dry or irritated, but you should not experience significant pain.
What are my anesthesia options?
Eyelid surgery is performed under local anesthesia with sedation. During surgery, your vitals will be monitored by our team for your complete safety.
How much does eyelid surgery cost?
The cost of eyelid surgery varies by patient, depending on the specific treatment plan. Dr. Magilke can provide a pricing quote after you have discussed your eyelid surgery needs and goals in consultation.
What is the eyelid surgery recovery like?
During the first few days after eyelid surgery, your lids will be swollen, sore and tender. You will likely see some bruising, too. These symptoms are temporary and subside quickly. If you experience any discomfort, you can take pain medication as prescribed by Dr. Magilke. Sutures are usually removed five to seven days after surgery.
Dr. Magilke will clear you to resume work, exercise and your normal routine. Most patients return to work one to two weeks after surgery and exercise two weeks after surgery.
When can I start to see results?
Initially, swelling and bruising will obscure your newly tightened eyelids. As swelling goes down, you can start to notice improvement in your lids, usually within two weeks.
Does eyelid surgery improve the look of wrinkles around the eyes? What about crow's feet?
Eyelid surgery does not reduce prominent wrinkles around the eyes, including crow's feet. It focuses on improving the eyelid skin, fat and muscles. To minimize wrinkles and lines, Dr. Magilke offers treatment with Botox or fillers. Laser treatments can also help.
How to Schedule a Blepharoplasty Consultation
Enjoy a happy and well-rested expression after eyelid surgery with The Portland Face Doctor, David Magilke. For more information about the procedure and what it can improve, please call our office at (503) 297-6511 and schedule a consultation.
Related Posts