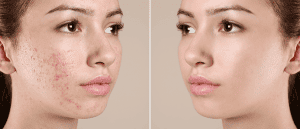 Scars are a personal topic that can be difficult to talk about. Often caused by acne, facial scarring is highly visible and can lead you to wear excess makeup in an attempt to cover it up. The appearance of acne scarring can even lead to a decrease in confidence. The experts at Portland Face Doctor want you to know you do not have to live with acne scars forever. At our facility, we offer effective scar treatments that can improve the look of textured and discolored skin.
Acne Scars
Acne scars result from inflammation of acne blemishes. There are two main types of acne scars. A scar may develop after there is a loss in tissue which creates an indentation and can contribute to a wavy skin texture. The other type of acne scar is one that is raised. Scar treatment at Portland Face Doctor can help reduce this texture and discoloration and give you a more even-toned appearance.
Seeking Treatment
Effective scar treatment starts with a consultation with one of our specialists. During your consultation, your skin and scars will be evaluated, and a treatment will be recommended to you. It is important to be specific about how you want to look after treatment, and if there are any issues in particular that you want addressed.
Clear + Brilliant® Laser
Our treatments that involve Clear + Brilliant® can provide you with younger-looking, radiant skin. This treatment works by essentially replacing the damaged skin with healthy tissue, which results in an improved scar appearance. Treatments takes about 30 minutes to complete, making Clear + Brilliant® sessions a convenient choice for scar treatment.
The number of sessions you need depends on your unique skin needs. Our talented specialists will provide further information on a regimen during your consultation.
You can expect scars that are less noticeable and softer in texture, giving you a confidence boost along the way.
Facial Peels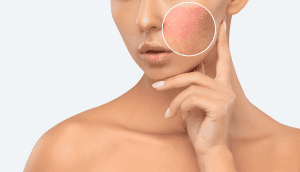 Another scar treatment option is peels, which use a specially formulated solution to chemically exfoliate the skin and even out texture and tone. Peels are excellent for cell turnover and can result in younger looking skin overall. Peels come in different strengths to address different skin concerns. When used for scar treatment, it is typical to receive a recommended number of treatments over a series of sessions.
Peel results range from texture reduction to a smooth and glowing complexion. 
Contact Our Portland Office
Facial scars are often a frustrating reminder of breakouts and skin issues from the past. Many try to correct scarring with creams and other solutions, often leading to lackluster results. However, professional scar treatment can help you finally achieve the skin of your dreams. After a series of treatments at our office, you will notice a difference in the visibility and texture of your scars. A radiant, blemish-free complexion is within reach at Portland Face Doctor, where we are ready to help you look and feel your best. Contact us today to schedule an appointment and find out if our scar treatment options are right for you.